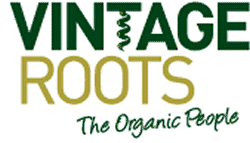 Vintage Roots has been the UKs leading home delivery supplier of high quality organic wines, beers and spirits since 1986. Wines available by the bottle, so it is easy to mix your own case and there are interesting pre-mixed cases too.
I recently tasted through a selection of wines, all organic or biodynamic and vegetarian friendly. I have to say they have a really nice portfolio of balanced, food-friendly wines that avoid the 'bigger' styles, and are mostly more subtle and complex, perhaps as a consequence of the producers adopting organic practices.
white wines
Milton Vineyard, Riverpoint Viognier 2009, New Zealand
I'm a big fan of the biodynamic wines from James Milton's Gisborne vineyard. This Viognier has a hefty 14% ABV and was partially aged in older oak barrels. The nose is lusciously honeyed and peachy, with a touch of toffee and savoury honeysuckle character. On the palate it floods across the tongue, the slick, almost oily texture filled with almost meaty flavours, the savoury density adding to that impression, though really sweet-toned, apricot and peach fruit asserts on the mid-palate. Wow, this is a big wine, but it never overbalances as a core of tight, white fruit and mineral acidity is always part of the picture, giving more savour and bite into a long, nutty finish. Quite something. 91/100. £11.75, Vintage Roots.
Viña Ijalba, Rioja Maturana Blanca 2009, Spain
Striking and expensive packaging for this white Rioja, which is something a bit special being made from organically certified Maturana grapes rather than Viura and Malvasia, which are the usual suspects for Blanco. There's a refined nuttiness on the nose as well as subtle white fruit aromas of apple and pear, and a touch of something a little bit salty and mineral too. On the palate the fruit comes through: juicy pear and apple, but this remains a fairly subdued, subtle style, a wine with a nicely herbal and tight character overall and it makes for nice drinking. It's a wine where much of the interest comes from its rarity and wine buffs will love it. 88/100. £11.99, Vintage Roots.
sweet white
Rock Ferry, Late Harvest Riesling 2009, New Zealand
Since the lifting of trade restrictions last year more and more New Zealand sweet wines have been appearing on UK shelves, though they are still something of a rarity. This example from Marlborough was picked very late and aged in older French oak. It has an absolutely delightful nose, with glacé fruits and preserved ginger, apricot and honey. On the palate it is full-textured without being viscose or thick, those rich, sweet flavours really nicely balanced by fat, lemony acidity and a touch of herby character. This really lingers, and maintains lovely balance. 92/100. £11.50 per half bottle, Vintage Roots
red wines
Barone Pizzini, Primitivo 2009, Italy
Barone Pizzini is in fact a northern Italian winery, though this wine comes from their Tenuta del Barco estate at the opposite end of the country, in Puglia. It has a vivid crimson/purple colour and a nose that is equally bright and fleshily full, though it is fruit rather than oak that dominates with spiced cherry scents. On the palate this wine has an intense streak of liquoricy concentration: some of Primitivo's almost floral charm comes through, but the solid core of fruit and a beefy underpinning of discreet oak and tannin adds lots of ballast here. A chewy but never heavy wine, crying out for a chunk of beef or lamb. 88/100. £10.99, Vintage Roots.
Le Clos de Caveau, Fruit Sauvage Vacqueyras 2007, France
This organic wine, a blend of Grenache and Syrah, comes from one of the top Rhône villages close to Châteauneuf-du-Pape. I love the deep, sensuous richness of the black fruit on the nose, with a thick, syrupy weight, that belies the finesse of the palate to come. In the mouth the creamy richness of texture and weight of the fruit is all there, but this has a wonderfully tight structure too, a grippy, peppery, liquoricy edge gripping on the mid-palate and a streak of stony, mineral acidity melding with some chewy, old wood richness in the finish. A big wine, but deeply-flavoured and complex. 90/100. £12.50, Vintage Roots.
Domaine Chasselay, Morgon 'Les Charmes' 2009, France
Cru Beaujolais from the 2009 vintage continues to excite with its very ripe, fruity but structured style. This certified organic Morgon is no exception with its relatively deep, solid colour and nose that adds a truffly, undergrowthy, quite Pinot Noirish quality to brightly-toned, juicy cherry and blackberry quality of Gamay fruit. On the palate it has real depth of flavour, the structure and verve of the fruit and tannin offset by little glimpses of herbs and aromatic, floral characters. This is powerful stuff though, with creaminess of texture and real concentration, and it is about as far removed from the average 'Nouveau' as it is possible to get. 90/100. £13.75, Vintage Roots.